lut 28, 2022
Plastic modular belts reach new heights
Two new modular belt solutions from Habasit bring new possibilities for industrial packaging applications, especially in applications where space is at a premium. The HabasitLINK M2592 raised deck radius belt saves up to 5 times the space needed for a traditional radius conveyor. The HabasitLINK M0870 HighGrip Micropitch delivers 50 per cent lower minimum transfer distance, enabling use of grip top plastic belts on nosebar applications with a knife edge down to 6 mm.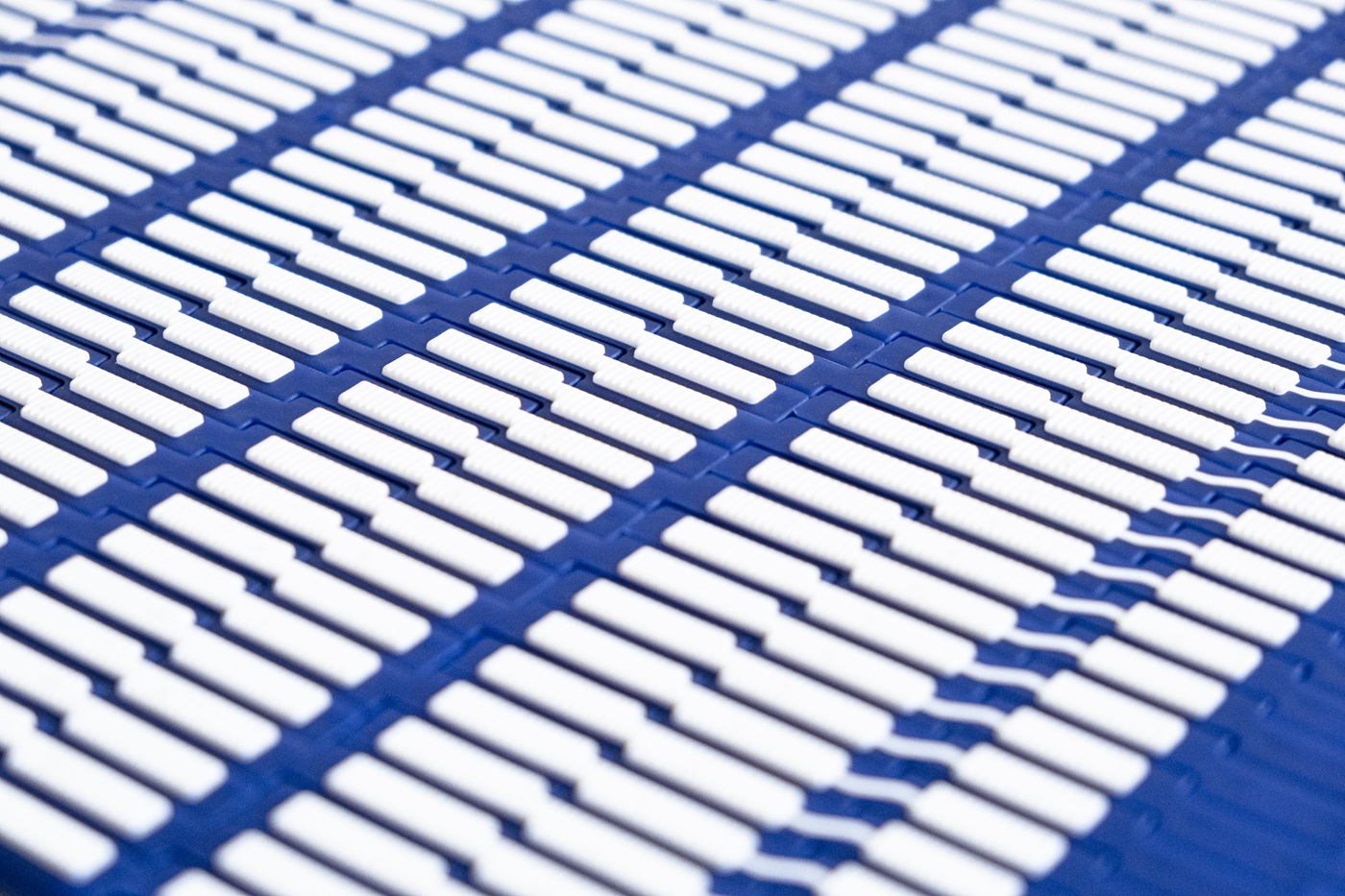 Conveyors for use in the packaging industry face several challenges including limited floor space for machines, meaning belts must operate in tight spaces and at tight angles. It is crucial that conveyors are optimised for the space, so they don't harm production layout. Furthermore, the relatively large transfers achievable with traditional grip top modular belts led to many customers being unable to take advantage of modular belts. The two new products from Habasit help to overcome these limitations.
"Plastic modular belts with a grip top feature are ideally suited for incline and decline solutions. However, until now they were unavailable for tight transfer conveyors," explained Anders Nilsson, R&D portfolio manager for HabasitLINK. "The new M0870 HighGrip Micropitch 0.3" provides reliable product positioning with no slippage and transfers as narrow as 23 mm, a 50 per cent reduction compared to other grip-top modular belts.

"With its high grip surface, this micropitch belt also allows for higher operating speeds in some applications because of the reduced product slippage on the belt. It also copes better than traditional modular belts in incline and decline applications."

The second novelty by Habasit is the M2592 Radius Raised Deck 1", which allows to optimize line layout and reduce the conveyor system footprint.

"We understand that, for many businesses, space is at a premium and this has caused problems in finding suitable plastic modular belts for packaging applications," continued Nilsson. "The M2592 space saver belt allows customers to save up to five times the floor space compared to alternative solutions. This permits increased flexibility in terms of plant and production layout.

"Furthermore, thanks to the raised deck surface, customers can transport products with a wide range of sizes, from small boxes to wide pans, without interference from lateral wearstrips. This is in addition to the fact that it is one of the most robust belts available for radius applications, enabling longer conveyors and less drives and delivering an overall lower cost.

"Finally, it is worth noting that plastic belts emit less noise when transporting crates and pans compared to using rollers or chains. This facilitates a better working environment while also helping to protect the pans and crates being transferred from damage," concluded Nilsson.