Tailored solutions for optimal performance
The Habasit seamless belt portfolio consists of woven endless and knitted endless belts, as well as synchronous and non-synchronous endless substrates. The belts can be coated with no splice or seam, providing uniform physical properties during the entire belt service life.
Our manufacturing processes and ideal combination of materials ensure optimal design for your specific application requirements. Habasit seamless belts offer reduced lifecycle costs, as well as smooth and vibration-free operation, especially at high speeds.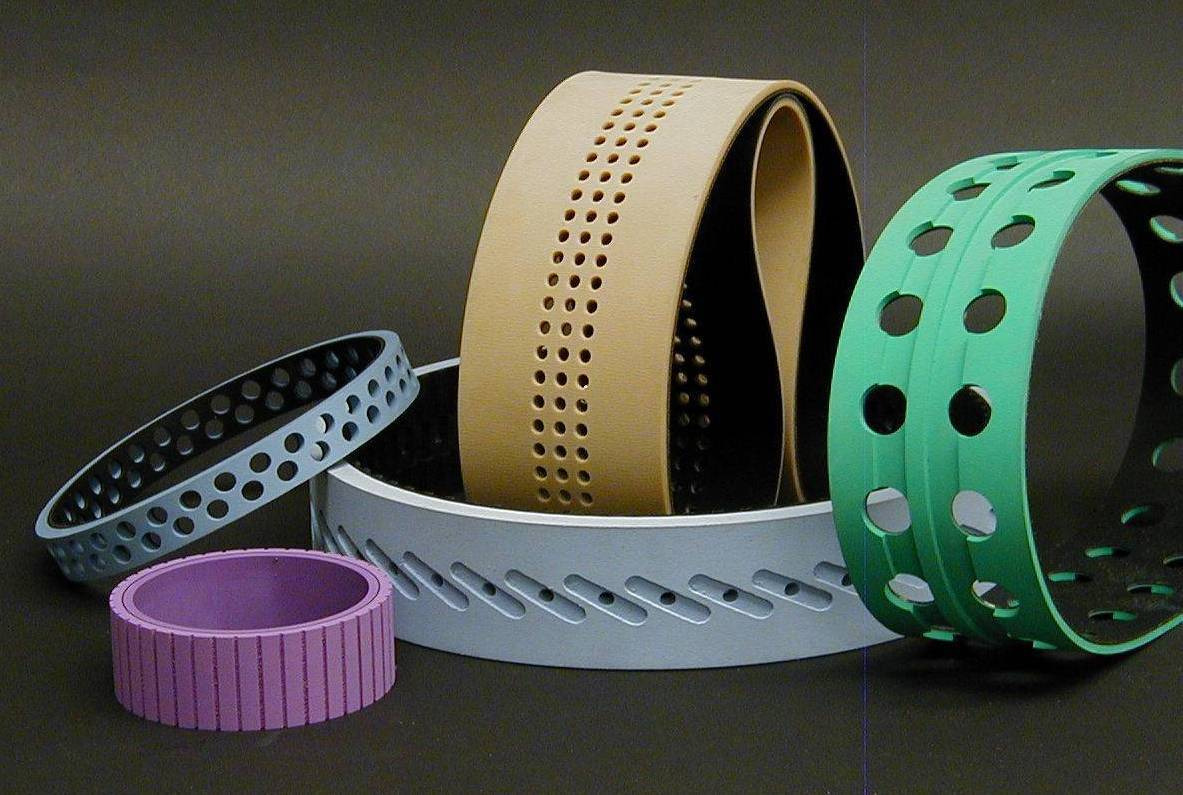 Belt Design
The seamless belt substrate (fabric) is manufactured endless on looms, or knitted as a tube. The threads are wound in a spiral in the belt running direction. The belt circumference is determined by the diameter of the spirals, while the required width is obtained by slitting the tube. To achieve the necessary properties and dimensional stability, the belt substrate is coated with a specific elastomer and treated in a special thermal process. Seamless belts are available in stable, semi-stable, semi-elastic, and elastic versions.
Habasit GRABBER seamless belts
Habasit GRABBER belts are customized for specific applications where product feeding or pulling is required. The compound selected is based on the coefficient of friction and abrasion resistance desired. Habasit GRABBER belts are usually further segmented by application type.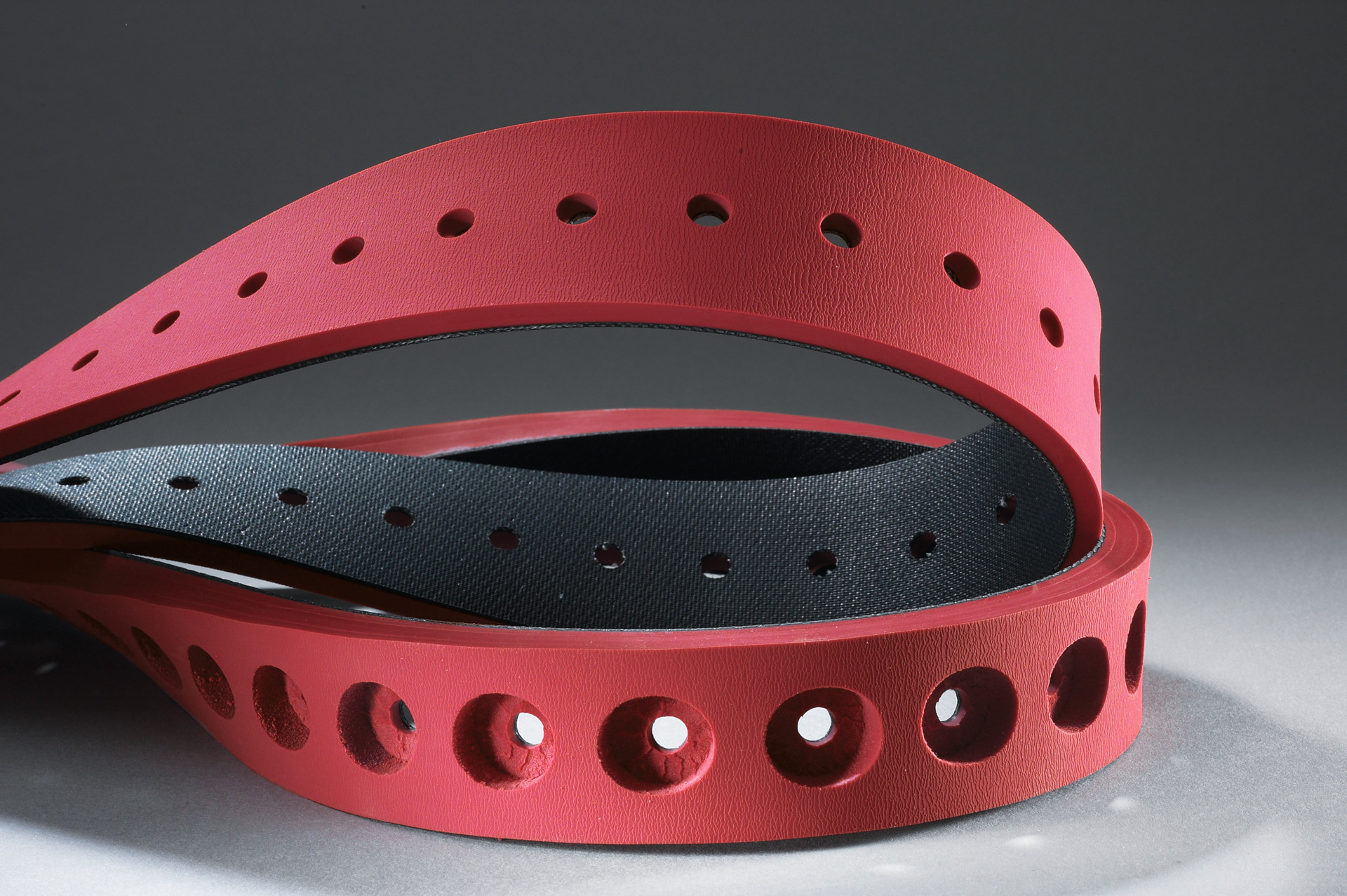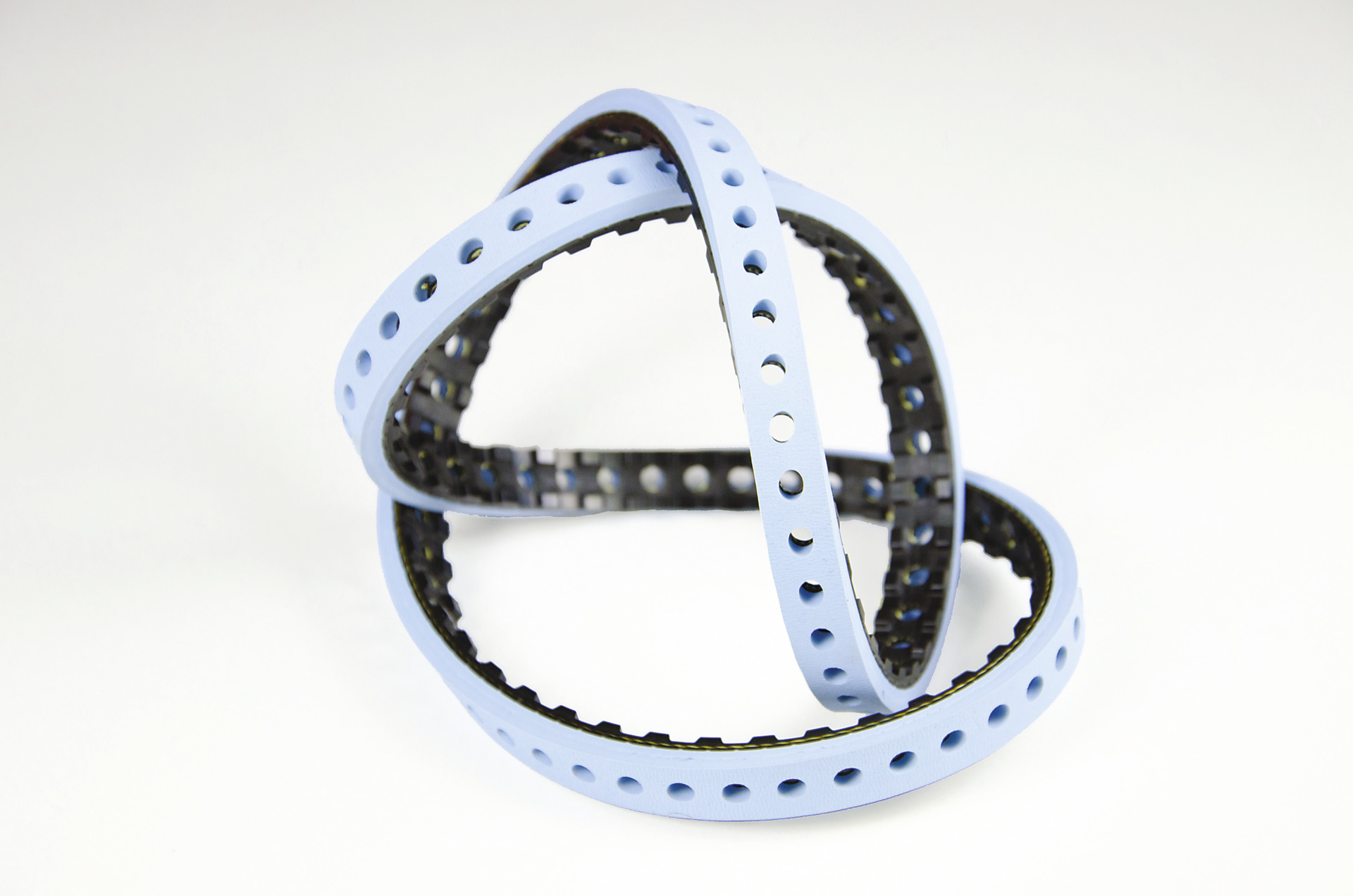 Traditional seamless belts
These belts are produced by weaving or knitting a "tube" of fabric material in a circular fashion. The belts are then coated with various rubber or plastic materials depending on the application requirements. Since the belts do not have a splice, they are very strong for the given thickness and can also be produced to hold very tight length tolerances.
Power Transmission Belts
Habasit seamless power transmission belts are used to transmit power in light duty applications, including lathes, grinders, vacuum cleaners, and spindle drives. A variety of strengths are available based on different fabric designs.
Conveying Belts
Habasit seamless conveying belts are used for transporting light objects, usually at higher speeds, such as: paper, currency, tickets, and envelopes. Various strengths are available based on different fabric designs. Different friction values are achieved through the selection of the top cover compound.
Endless woven belts
Endless woven processing belts are customized to individual application requirements and are either seamless or woven endless. The fabric is then coated with TPU, DPU, PVC, or silicone, depending on the application requirements. Several belt strengths are available, achieved by altering the weave design. The belts are further segmented by industry.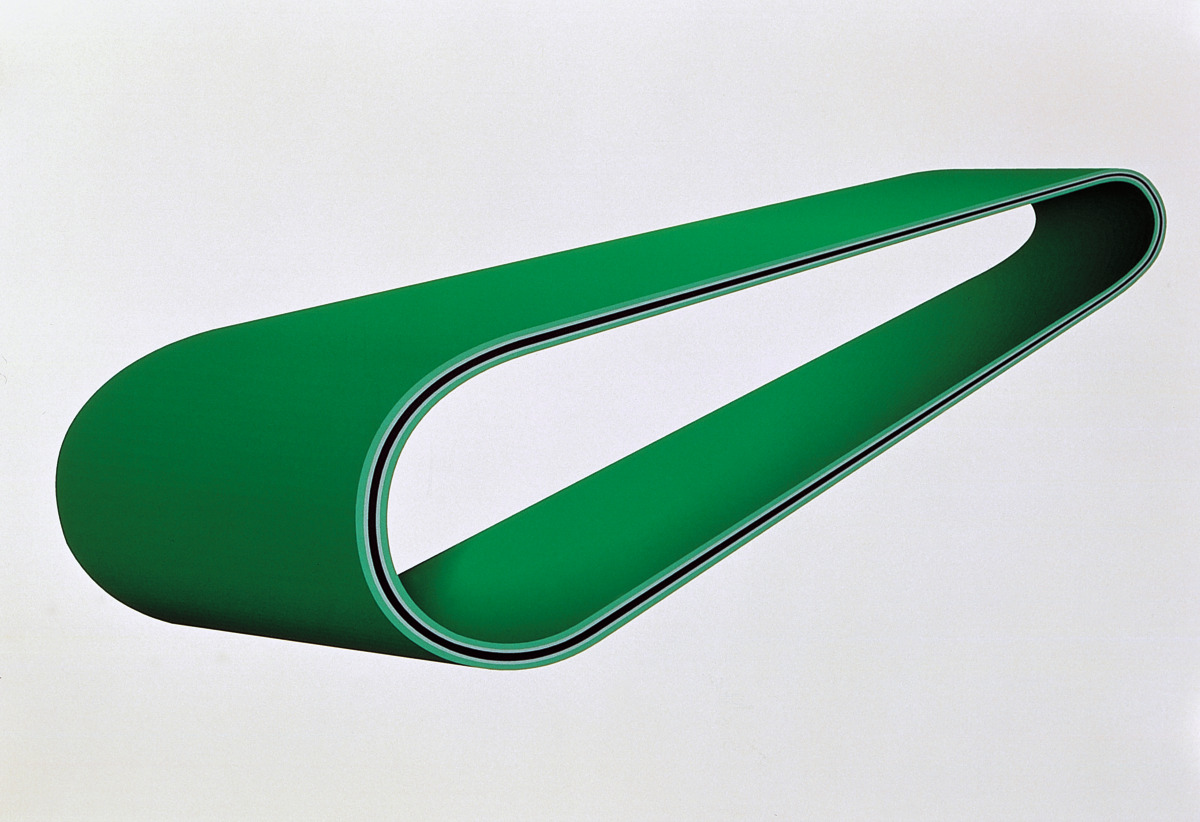 Nastri Cable Puller
I Cable Puller vengono utilizzati nella produzione di cavi di grandi dimensioni, dove due nastri corrispondenti tirano i cavi attraverso il processo di rivestimento. Queste nastri sono spesso chiamati nastri "caterpillar" o "cingolati". Un tipico materiale di copertura per questi nastri è il PVC resistente all'abrasione.
Avvolgitore in bobina, avvolgitore in acciaio o nastri avvolgitori in bobina
Questi nastri vengono utilizzati nella produzione di metalli (acciaio, alluminio e rame). I nastri avvolgono il materiale dopo la sua produzione e prima che venga tagliato in fogli. Questi nastri hanno una struttura robusta per resistere all'abrasione, al taglio e alle emulsioni coinvolte nel processo. Le coperture sono generalmente realizzate con composto in materiale duroplastico spesso.
Nastri di processo rivestiti in silicone
I nastri di processo rivestiti in silicone sono utilizzati in varie applicazioni ad alta temperatura, come la produzione di palloncini, sacchetti per rifiuti e guanti chirurgici. Il composto del rivestimento è in silicone e la struttura intessuta da manicotto è in poliestere, a meno che non sia necessaria una resistenza alle alte temperature, nel qual caso si utilizza l'aramide.
Nastri Rotary Molder
I nastri Rotary Molder sono utilizzati da molti produttori di biscotti, con ogni tipo di impasto. Il tessuto del nastro è intessuto senza fine. Le fibre naturali, come il cotone, sono materiali che hanno un'eccellente proprietà assorbente che permette al nastro di assorbire grasso e umidità dall'impasto dei biscotti.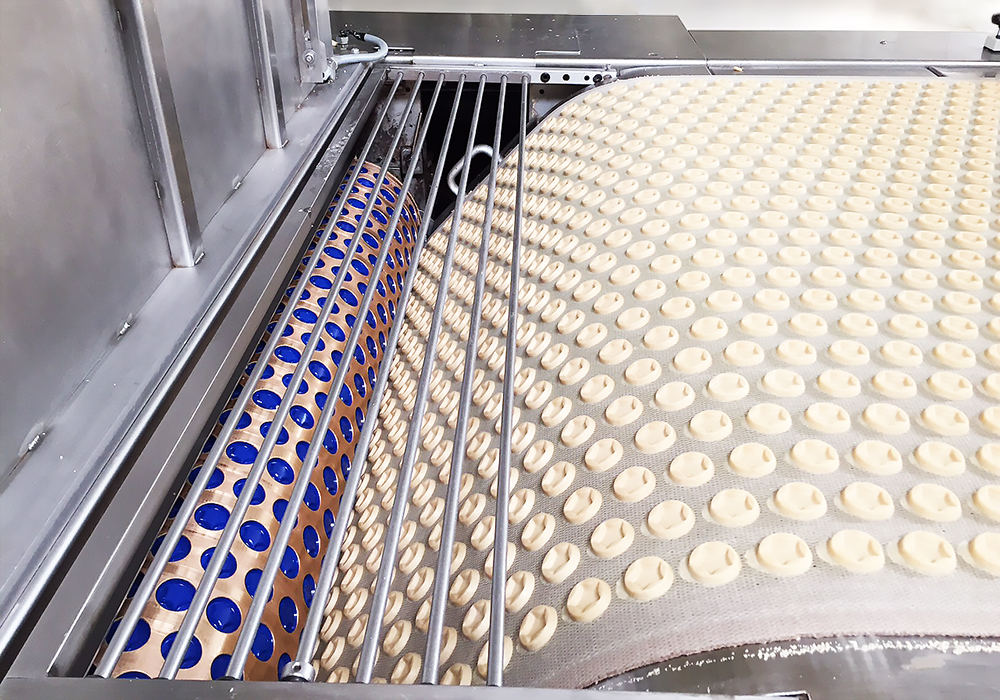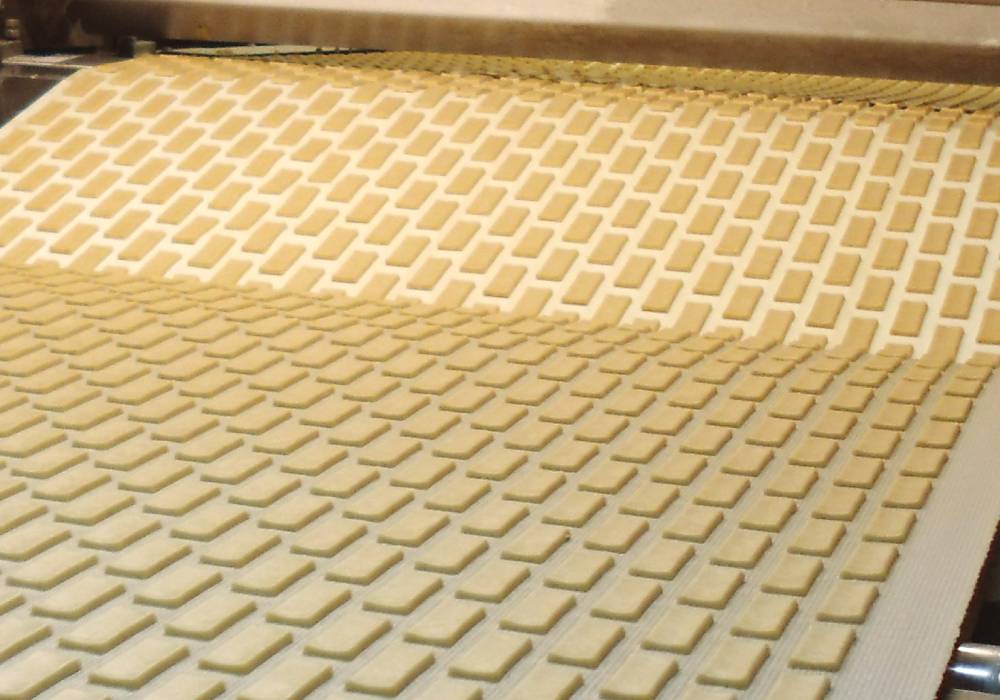 Sfogliate la vasta selezione di nastri Habasit, accessori e componenti per trasportatori