Tailored solutions for optimal performance
The Habasit seamless belt portfolio consists of woven endless and knitted endless belts, as well as synchronous and non-synchronous endless substrates. The belts can be coated with no splice or seam, providing uniform physical properties during the entire belt service life.
Our manufacturing processes and ideal combination of materials ensure optimal design for your specific application requirements. Habasit seamless belts offer reduced lifecycle costs, as well as smooth and vibration-free operation, especially at high speeds.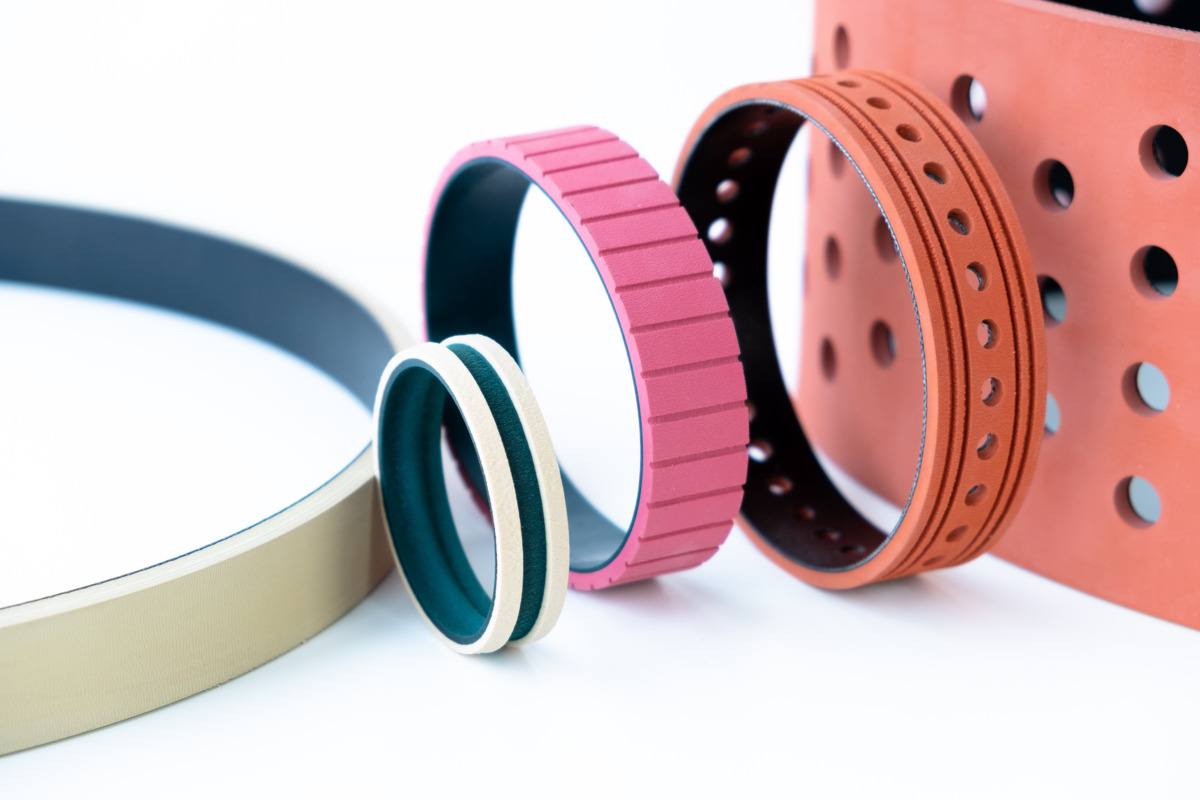 Belt Design
The seamless belt substrate (fabric) is manufactured endless on looms, or knitted as a tube. The threads are wound in a spiral in the belt running direction. The belt circumference is determined by the diameter of the spirals, while the required width is obtained by slitting the tube. To achieve the necessary properties and dimensional stability, the belt substrate is coated with a specific elastomer and treated in a special thermal process. Seamless belts are available in stable, semi-stable, semi-elastic, and elastic versions.
Habasit GRABBER seamless belts
Habasit GRABBER belts are customized for specific applications where product feeding or pulling is required for synchronous as well as non-synchronous motions. The cover compound selected is based on the coefficient of friction and abrasion resistance desired. Habasit GRABBER belts are usually further segmented by application type.
GRABBER seamless belts are mainly used in folder gluer (FG) or feeding applications where non-synchronous motion is required.
GRABBER timing belts are primarily used in Vertical Form Fill Seal (VFFS) and other pulling applications where synchronous motion is required.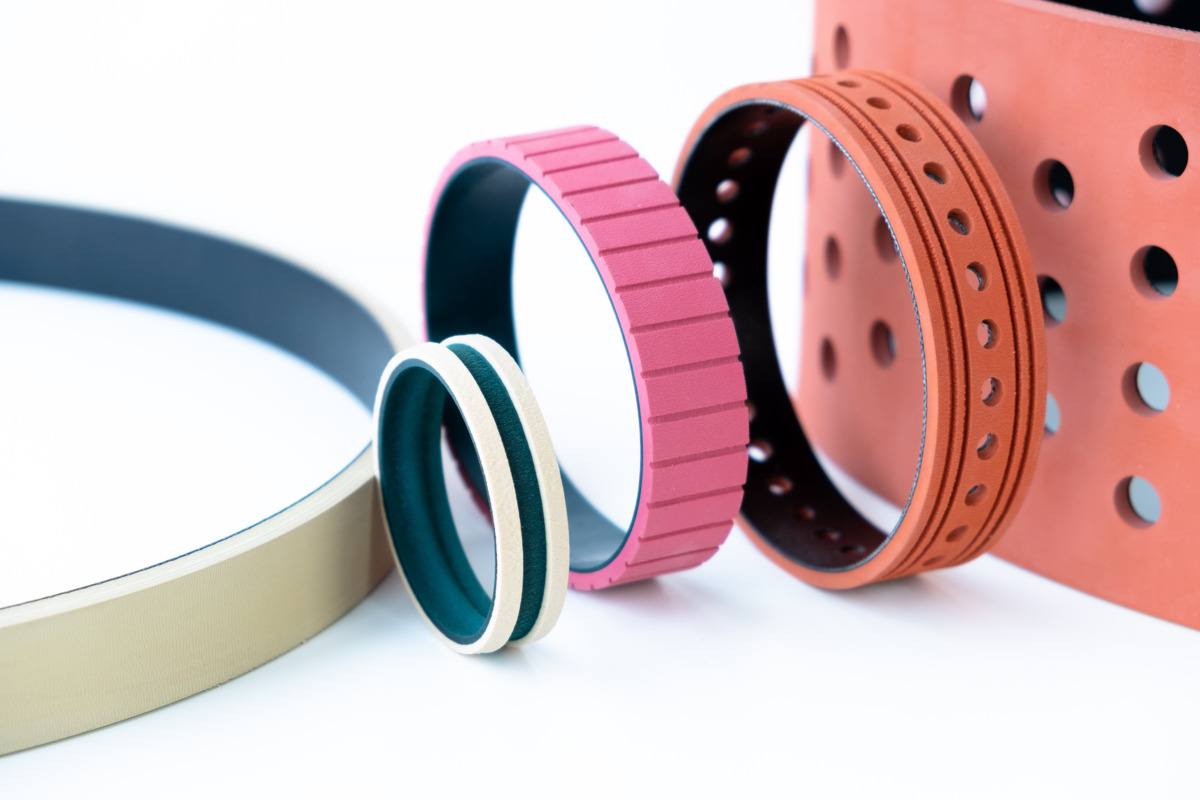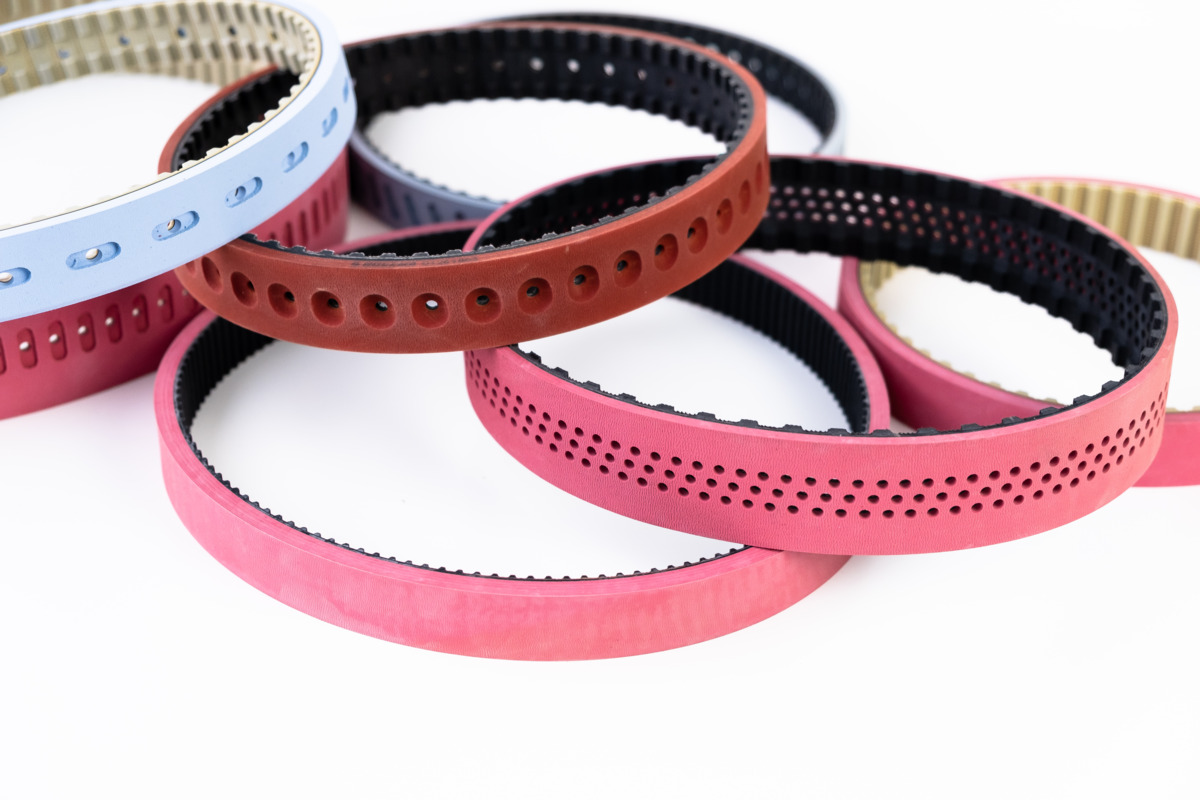 Traditional seamless belts
These belts are produced by weaving or knitting a "tube" of fabric material in a circular fashion. The belts are then coated with various rubber or plastic materials depending on the application requirements. Since the belts do not have a splice, they are very strong for the given thickness and can also be produced to hold very tight length tolerances.
Power Transmission Belts
Habasit seamless power transmission belts are used to transmit power in light duty applications, including lathes, grinders, vacuum cleaners, and spindle drives. A variety of strengths are available based on different fabric designs.
Conveying Belts
Habasit seamless conveying belts are used for transporting light objects, usually at higher speeds, such as: paper, currency, tickets, and envelopes. Various strengths are available based on different fabric designs. Different friction values are achieved through the selection of the top cover compound.
Endless woven belts
Endless woven processing belts are customized to individual application requirements and are either seamless or woven endless. The fabric is then coated with TPU, DPU, PVC, or silicone, depending on the application requirements. Several belt strengths are available, achieved by altering the weave design. The belts are further segmented by industry.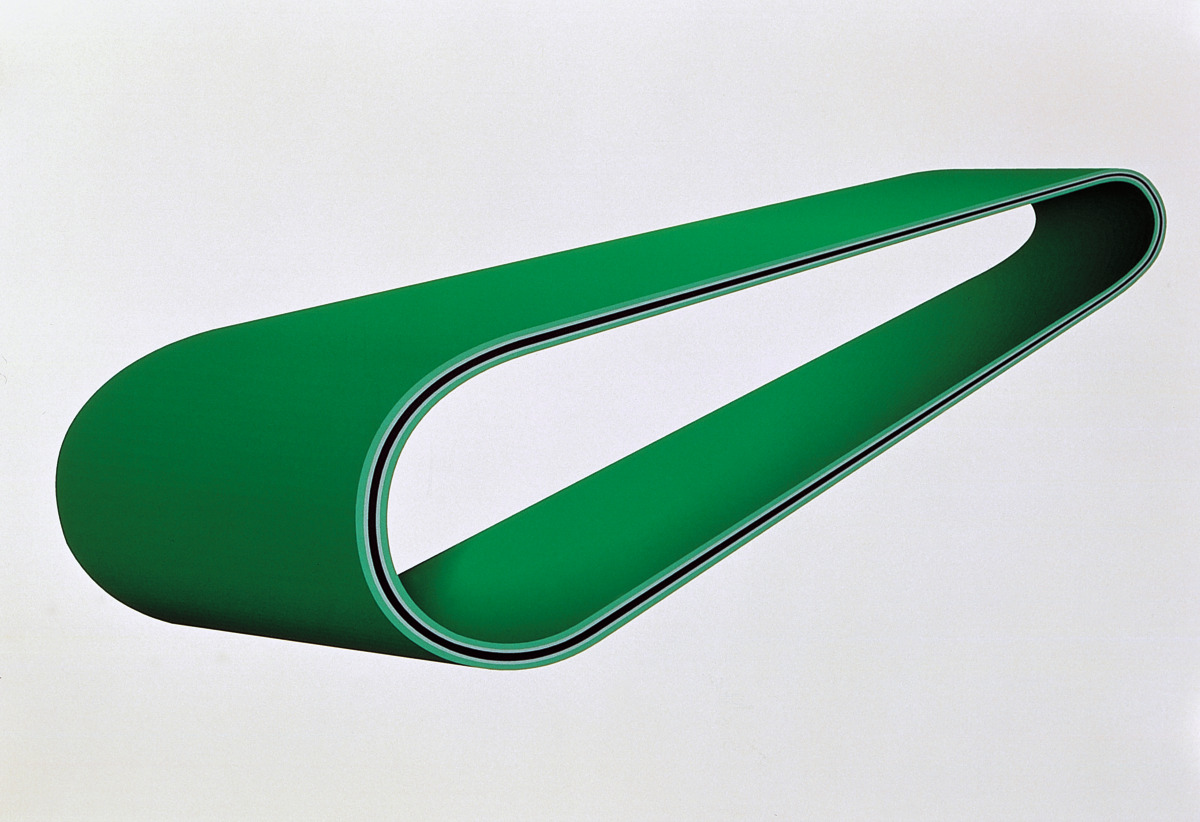 Cable puller belts
Cable Puller Belts are used in the production of large cables where two matching belts pull the cables through the coating process. These belts are often called "caterpillar" or "tractor" belts. A typical cover material for these belts is abrasion resistant PVC.
Coil wrapper, steel wrapper or coil winder belts
These belts are used in the production of metal (steel, aluminum, and copper). The belts coil the material after it is produced and before it is cut into sheets. These belts have a heavy-duty construction to withstand the abrasion, cutting, and emulsions involved with the process. The covers are typically constructed with a thick duroplastic compound.
Silicone processing belts
Silicone Processing belt are used in various high-temperature applications, such as the production of balloons, trash bags, and surgical gloves. The cover compound is silicone, and the endless woven carcass is polyester, unless very high temperature resistance is required, in which case aramid is used.
Rotary molder belts
Rotary molder belts are used by many different biscuit manufacturers, featuring every kind of dough. The belt fabric is woven endless with real selvage belt edges. Natural fibers such as cotton are standard materials due to their excellent extraction behavior that absorbs fat and moisture from the biscuit dough.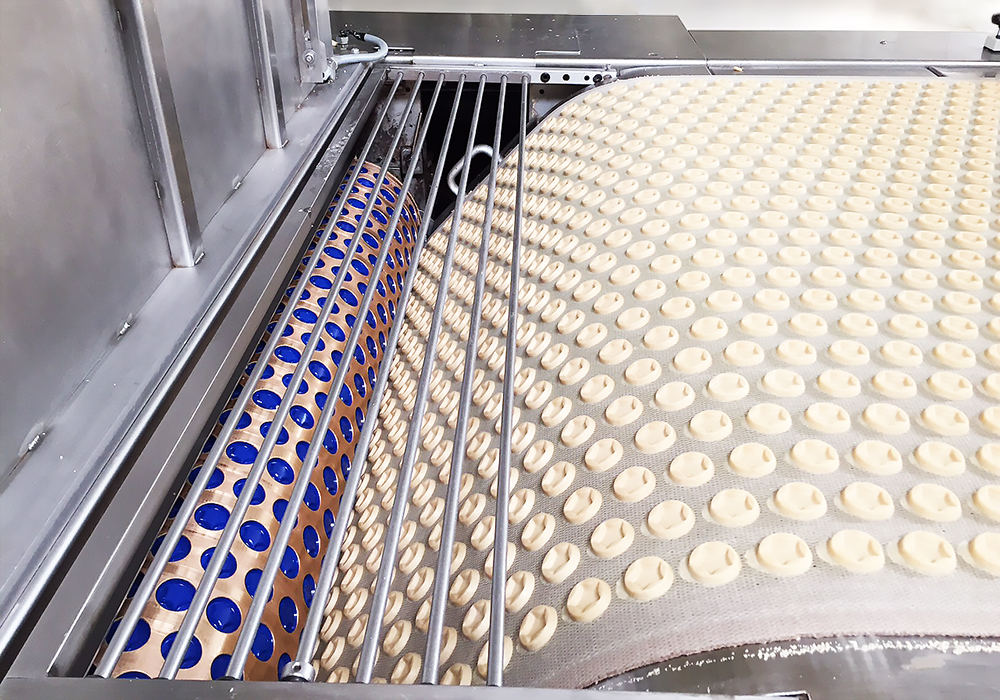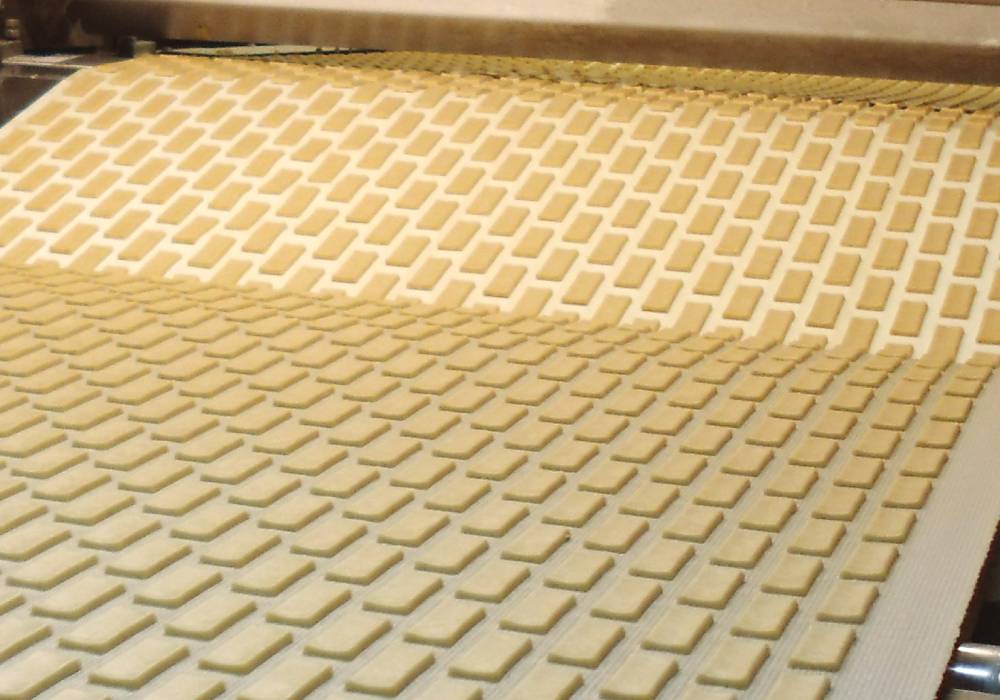 Browse the wide selection of Habasit belts, accessories and conveyor components