Nov 15, 2023
Significantly lower carbon footprint with identical excellent belt performance: Habasit launches a more sustainable POM belt alternative.
As consumers, we've become accustomed to environmentally friendly product alternatives that often differ from their traditional counterparts in terms of design and usability. Habasit proves that it doesn't need to be this way. The premium belting company is introducing a new, more sustainable option to their POM-based HabasitLINK modular belt range. The new Bio POM belts offer an up to 35% lower carbon footprint while retaining 100% of the conventional POM belt's mechanical and technical features and benefits.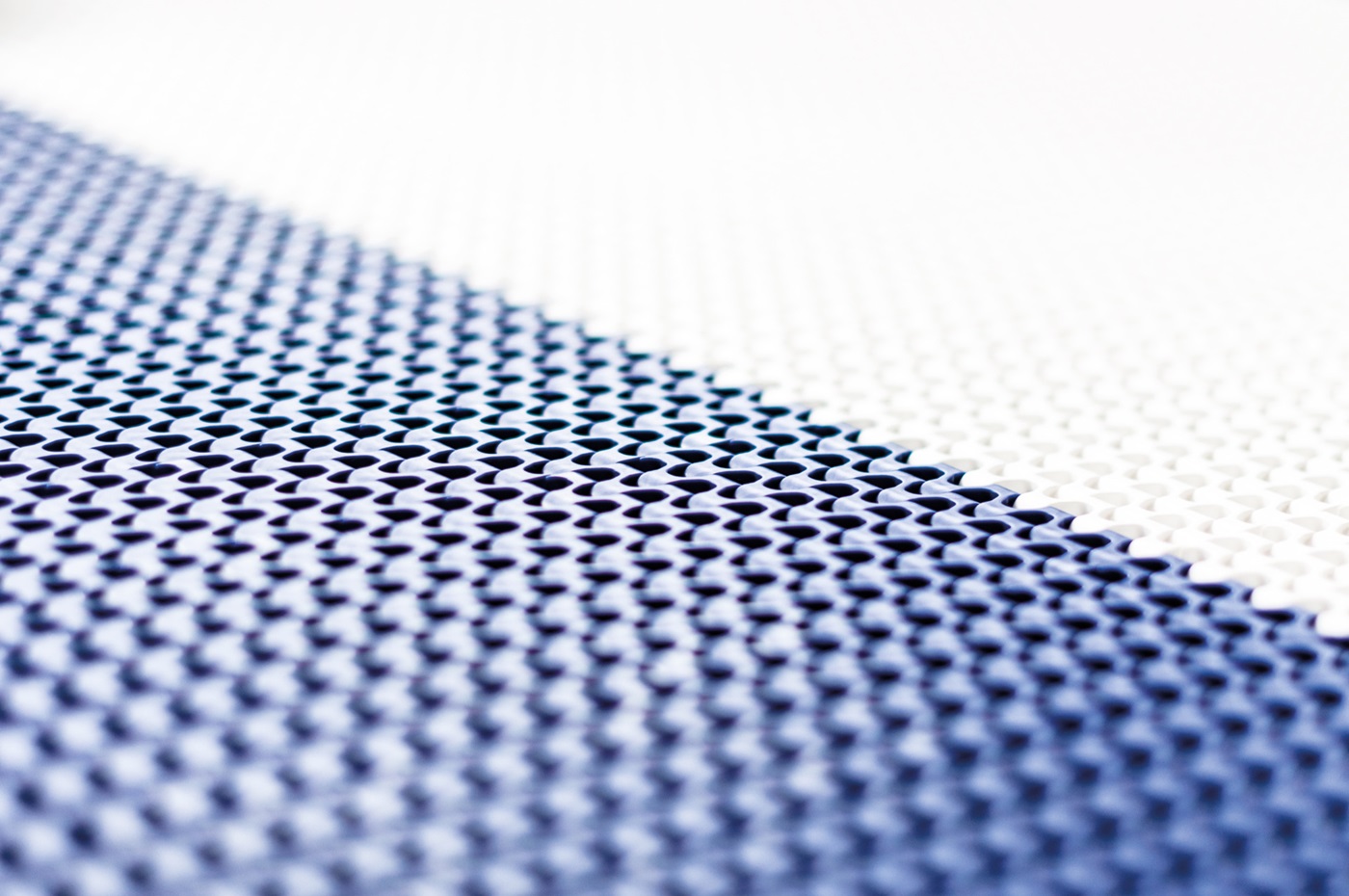 Habasit's experience in power transmission and conveying solutions spans almost 80 years, and HabasitLINK plastic modular belts have been part of the company's portfolio for nearly a quarter of a century. What makes plastic belts the perfect solution for a wide array of conveying and processing applications?
The many advantages of HabasitLINK plastic modular belts

The HabasiLINK belt range covers over 150 belt styles made from different materials to match customers' specific application needs. The belts are highly durable and resistant to extreme temperatures (from -70 to +240 degrees Celsius). Thanks to their bricklayer modular design, they are easy to repair, making maintenance fast and easy, and preventing lengthy production downtime.
One of the most versatile materials used in plastic modular belts is Polyacetal, also known as POM - a polymer derived from methanol obtained from fossil gas. POM plastic belts are appreciated mainly for their hardness, strength, and fatigue resistance, which means they can handle higher admissible loads and work reliably in the most challenging industry conditions.
POM-based belts can be more sustainable

With the growing awareness by consumers and businesses of the need to switch to more sustainable manufacturing, Habasit is stepping up to offer more sustainable products made from more environmentally friendly materials. The company is now introducing a more sustainable POM belt made with a raw material derived from bio methanol obtained from organic waste.
HabasitLINK Bio POM
is sourced from an ISCC+-certified supplier. ISCC+ (International Sustainability & Carbon Certification) guarantees that the raw material complies with the EU's sustainability directives. The raw material used for Bio POM is made with over 90% renewable content, and importantly, does not affect or compete with food or feed supplies.
Clear benefits for the environment and CPG companies

Producing belts with a more sustainable raw material brings a clear environmental benefit. There is also a substantial advantage for environmentally conscious manufacturing companies looking to meet their carbon emission reduction goals.
"
We know that our customers – just like us – strive for more sustainable production. We aim to facilitate this for them by offering a solution that they are very comfortable with. They do not need to learn to work with a new product – we offer a solution they are already perfectly familiar with in terms of performance, durability, and reliability. The transition from conventional modular belts to Bio POM belts can be smooth and virtually unnoticeable in a company - just as it is impossible to distinguish one belt from another with the naked eye. At the same time, it marks a step towards a greener operation
," says Daniel Stein, Portfolio Manager at Habasit.
Markus Vetter, Senior Project Manager Materials at Habasit, also points to the increasing consumer awareness of environmental issues and their growing expectations towards the Consumer Packaged Goods companies' contribution.
"
Consumers are no longer so easily lured by make-believe slogans if actual, measurable, environmentally friendly measures don't follow. They expect concrete facts communicated in an approachable and straightforward manner. Above all, they have high expectations of manufacturers of goods closely linked to their daily lives, like the food they eat or the cars they drive,
explains Vetter.
The solution we have introduced meets these expectations. We empower producers with a solution to help them build or cement a lead over their competitors. We realize that a company's ESG measures are becoming an increasingly significant factor in the decision-making of consumers as well as potential partners or employees,
" he stresses.
Significant carbon footprint savings with no performance loss
The main - and only - change in the final HabasitLINK belt comes from using Bio POM as the raw material used to produce the belt. There is no change otherwise in the process of manufacturing the plastic modular belt, and the Bio POM belt offers one-to-one performance compared to its conventional alternative.
The carbon footprint of the new Bio POM belt is reduced by up to 35% while retaining 100% of the characteristics of the original – including, among other things, compliance with all European and FDA food regulations.
Working towards a more sustainable future
Habasit has a long history of designing solutions that facilitate saving resources, like the water and energy consumed on customers' production lines. Some examples include the
SuperHyCLEAN
range, delivering water savings of up to 50%, and
Eff-line belts
, which reduce energy consumption by up to 45%.
The introduction of the new Bio POM belts now also reduces the environmental impact of the belting solution that Habasit supplies, thus further supporting our customers' ESG efforts and credentials.
Click here
for more information.