The future of hygiene is now
Super HyCLEAN is a brand new concept in the HabasitLINK plastic modular belting range.
The products have been designed for applications where the highest hygienic standards are required, with special focus on poultry and fish processing.
The innovative hygienic design reduces the deposit of organic debris and, at the same time, it allows quick, easy and efficient cleaning operations, reducing the overall sanitation costs and the risk of product cross-contamination.
Innovative design for even more efficient cleaning
The ultimate solution to significantly reduce the risk of cross-contamination and increase the efficiency of cleaning of plastic modular belts is to increase the ratio of flat, homogeneous surfaces and minimize the number of hinges and rods. The unique, patent-pending design of Super HyCLEAN belt range provides exactly this advantage.
Minimized use of hinges and rods - reduced by up to 80% compared to the traditional modular belt. This results in a reduction of the total exposed surface of the belt by 33%.
Pockets and corners placed at the lateral sides of the belt increase the flat surface with minimal cavities on the running side of the belt.
Mold to width belt configuration means that there are no fractures in-between modules on the width of the belt.
Dynamic open hinge creates a robust structure to drive the belts with only two sprockets.
The lateral opening of the hinges allows the water flow to reach hinges and rods with an easy flush away.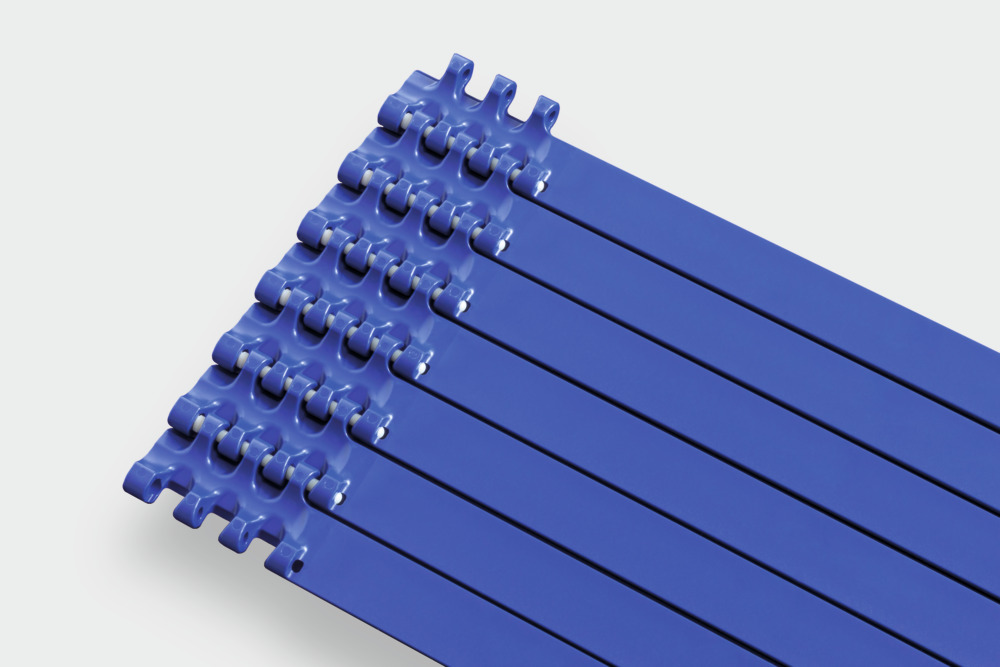 Enhancing food safety with Super HyCLEAN